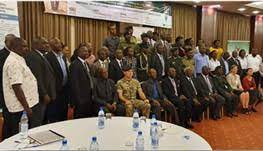 Uganda Wildlife Authority (UWA) has confirmed with a report about the boosting of increased wildlife cybercrime in the country. Though great efforts have been deployed across the country to combat crimes, results haven't proved positives.
UWA says cases have consistently increased over years, the wildlife crimes have almost doubled considerately from 2018 475 cases and increased to 790 in 2020.
Maj Joshua Karamagi, UWA investigation manager, said it's becoming more complicated to fight wildlife crimes because the perpetrators are now using digital. He said this at the training of investigation and intelligence officers from UWA and Uganda Police Force on Tuesday 14th, 2021.
Maj Karamagi added "we have done some good work in fighting wildlife crimes since I joined UWA in March 2018. In 2018/2019, we handled 475 cases with 525 suspects. And out of these suspects, 395 were convicted and sentenced in courts of law.
"In 2020, we handled 784 cases but in 2020/2021 we handled 790 cases with 1,310 suspects. We reached a conviction rate of 22.6 percent and a prosecution rate of 55 percent. All in all, since 2018, we handled 2,236 cases with 3,455 suspects." He added
Bashir Hangi, the UWA communications manager, said that they have arrested three of their officers and prosecuted them for helping the happening of wildlife crimes.
At the training, UWA received 4 modern computers from African Wildlife Foundation (AWF) to enhance the capacity of staff in contending wildlife cybercrime. AWF is the funder of the training where about 40 UWA officers are to be skilled with digital crafts to withstand wildlife cybercrime.
Mr. Robert Ssenkungu, the AWF programs manager, said Uganda should have to change the approach used to fight wildlife crimes.
"Some of the wrong elements we get in wildlife crime come from different continents and they infiltrate our continent and even in our country. AWF is supporting UWA to boost its capacity to stop those crimes, especially cybercrime. We want the UWA staff to have the capacity to properly manage cases, prosecute, take evidence and even present it to court so that the logical conclusion is achieved," Ssenkungu added.
The wildlife faced in Uganda include poaching elephants for ivory, and pangolins for their scales, etc., and the products are exported. This has guaranteed to decline of some wildlife species in the habitats affecting the conservation efforts.