Terror surfaced in Uganda's capital Kampala on Tuesday 17th, 2021, where heartless terrorists blasted two bombs within the city center.
The first bomb explosion was done at the entrance of the Central Police Station at Buganda Road and the other explosion happened near the IGG office at Jubilee House near the parliament.
After hours the Islamic State came out on Telegram and claimed to hold responsibility for the twine bombing in Kampala. The attack was carried out by three suicide bombers. Two blasted on a motorcycle at parliamentary avenue and the one blasted at the CPS entrance.
Earlier, the Police of Uganda blamed the attack on the Allied Democratic Forces (ADF) a rebel group operating in the nearby neighboring Democratic Republic of Congo. The police as well as linked the rebel group to other bombing activities which have happened in just a space of 30 days.
In 2019, Isis began to claim some ADF attacks on social media, presenting the group as its regional branch – the Islamic State Central Africa Province, or Iscap.
Two suicide bombers on motorbikes – disguised as local "Bodaboda" motorcycle taxi drivers – detonated a device near the entrance to parliament, killing a passer-by on Tuesday. A third attacker targeted a checkpoint near the central police station, killing two people, police spokesman Fred Enanga said.
According to the police report at least 3 people were killed in the explosions, 7 remained in critical conditions and over 30 were injured. The two bombs occurred concurrently from one to another in just a few minutes.
The Kampala Twine blasts have come shortly following several explosions in various parts of the country; on 23rd October 2021, an explosion happened at the restaurant in Kamamboga, a suburb in the northeast of Kampala killing one person and injuring a number of others.
On 25th October 2012, an explosion happened in a traveling Swift Safari Bus, along Masaka road in Mpiji district which left one person killed.
On 30th October 2021, an explosion killed two children in Nakaseke district north of Kampala, this appeared like a small ball that was given to children with a piece of jackfruit, according to the police report.
On 11th November 2021, one person was killed and two others critically injured after a scrap bomb exploded in Uganda in Kapeka Nakaseke.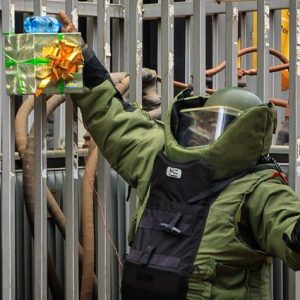 In 2010, was the deadliest bomb attack in Kampala at venues screening the World Cup final killing at Lugogo Rugby ground and the Ethiopian Village bar at Kabalagala were over 70 people and injuring many more.
This time the Al-Shabaab claimed responsibility and linked the attacks to Uganda's military presence in Somalia as part of an African Union peacekeeping mission (AMISOM), and threatened further attacks in the region.
The Monday Twine rocks were as well followed by the bomb squad resisting the other two bombs from exploding which one was tied as a packed gift still at the hydropower transformer near the CPS and another one from Nansana a suburb in Kampala.