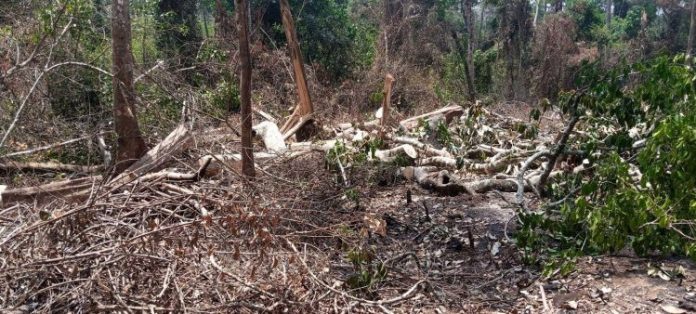 Uganda is famously known as the Pearl of Africa. This iconic name comes from the discovery of the country's beautiful resources. This includes tropical forests, pristine lakes, beautiful rivers, mountains, and wildlife-rich savannas.
Uganda has since become a place where people, local and foreign, enjoy its natural beauty. Tourists that visit Uganda always praise the green that covers the country, with many forests that have been well protected by the Uganda Wildlife Authority.
Unfortunately, the Pearl of Africa's forests are now under threat, due primarily to humans encroaching on these precious resources with no thought to the long term damage that will occur.
As I write this, one of the few remaining forest reserves in Buikwe District, Kisisita Forest Reserve, is facing serious deforestation. This beautiful forest was gazetted in 1932, with 741 hectares. Since then, communities near and far have been sustainably utilizing the forest.
Sadly, however, people (especially those with money) have been unsustainaly cutting down timber, burning charcoal and engaging in other activities that threaten the future of Kisisita.

Kisisita Canopy Viewing
While the authorities of Buikwe District in partnership with the National Forestry Authority made efforts at controlling these unsustainable endeavors, the forest reserve remains in jeopardy. It is an important buffer zone reserve for Lake Victoria that plays an integral role in productive rain, which provides people with water for their agriculture and livestock. This is why it is so important to leave the forest in its current state.
Sadly, the Buganda Broadcasting Service recently reported (20th October, 2021) that the Chairman LCV (Mr. Jimmy Kanabi) and the District Councilors of Ssi and Ngogwe sub counties in Buikwe District stated that the forest through the concerned body (National Forestry Authority) has been leased to an individual with the purpose of developing the forest. This would not necessarily be bad if the developments were done sustainably without damaging the structural integrity of the forest and bio-diversity.
However, the developer plans to plant sugar cane and has already employed roughly 30 individuals to cut down the forest for this agricultural development. According to Kalaga Nimiro, this has left many citizens of the area understandably frustrated and scared as some of their individual land may also be encroached upon.
With all of this in mind, we are respectfully calling upon the Ministry of Environment and the National Forestry Authority to halt the destruction of this important forest reserve. Any development should only occur if it is done sustainably.
Kisisita has a lot of tourism potential for people passing through on their way to other parks in the country. The forest is home to beautiful species of flora, birds, primates, butterflies, reptiles, and the river flowing into Lake Victoria.
As an alternative, we propose that we be given the opportunity to develop the forest as an ecotourist destination, complete with walkways, responsible trails, and activities such as nature walks, bird watching, canopy walks, and primate watching.
Nature Walks Trails
Over time, the revenue earned from these endeavors would far exceed that of a sugar cane plot. Moreover, fees would empower the district and communities to develop sustainable green jobs such as tour guides and nature experts.
As an organization with the goal of empowering Uganda through the environment, education, economics, and energy, we (E4P-Africa) can reduce poverty in a sustainable and economically responsible way.
We request that the National Forestry Authority give us an opportunity to work and develop this forest in a sustainable manner of turning this forest into a tourism destination in Buikwe District. With time our partner company that suitable in offering Uganda tours is planning at setting up a community based initiative that will not be so far from this forest and some of the conservation activities to experience include the nature walks, bird watching and canopy walks.
After offering these activities plans to also offer some relaxing cruise along the shores of Lake Victoria and with the view of taking the tourists to Jinja for the great adventures like the Rafting, Water sliding and with all these initiatives they are creating jobs to the locals near and far the forest. We want to see our beautiful forest protected for future generations rather than the mass deforestation and destruction for sugarcane.