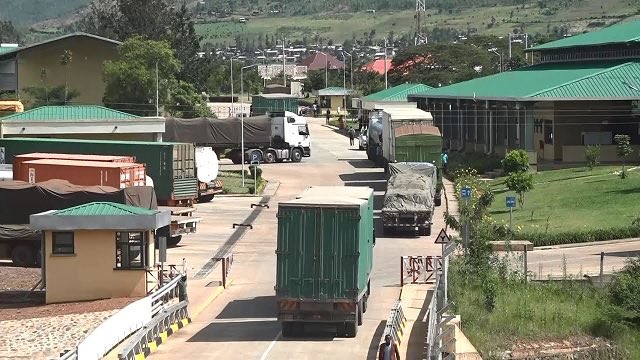 The Uganda revenue collectors, Uganda Revenue Authority (URA) has registered an increase in revenue collection at Katuna after the opening of the borders earlier this year.
After three years when limited business was transpiring at the border due to its closure for closely three years, the Rwanda-Uganda border was again reopened on February 31.
Mr. Gordon Mutungi, URA Customs in-Charge of the Katuna border says that each month, 470 million Shillings revenue is collected, which is above the target of 400 million Shillings.
On a daily basis, an average of 160 cargo trucks, 20 passenger buses, and 42 small vehicles enter or exit the border, said Mr. Mutungi.
He attributes the increase in revenue to the installation of electronic scanning services at the border which has greatly reduced the smuggling of goods, effective sensitization of traders on the dangers of smuggling, and cooperation between URA and security authorities in the district.
Rwandan President Paul Kagame closed the border accusing the Ugandan government of spying on Rwanda, abducting Rwandan citizens, and locking them up in unknown places. Rwanda also claimed that Uganda hosted and facilitated rebel groups that were declaring war on the Kigali government.
With this Rwanda advised its citizens not to leave the country to go to Uganda, saying Rwandans were not safe going to Uganda.  This issue resulted in the closing of the border and all business remained at a standstill where no Uganda or Rwandans was allowed to cross and purchase from either side.
In the process, about 5 locals were gunshot and killed while crossing borders due to smuggling on the border of both countries.
Mr. Abel Kagumire, the Commissioner of Customs at URA says that goods worth 84.7 Billion Shillings have crossed the Katuna border since it was reopened.
Some of the goods cross beyond Rwanda to Burundi and the Democratic Republic of Congo. He explains that among the exports from Uganda via the border include: sugar, iron, and sleet bars, cosmetics, fish, plastics, and garments, explained Mr. Kagumira.
Kagumire says that Rwanda's main exports to Uganda are scrap from iron and steel waste, aluminum, packaging materials, and onions.
Kagumire however says that despite the progress, the export of Ugandan cement especially manufactured by Hima and Tororo cement companies has completely collapsed. He adds that the Rwandan government cites low-quality standards of the cement manufactured in Uganda.