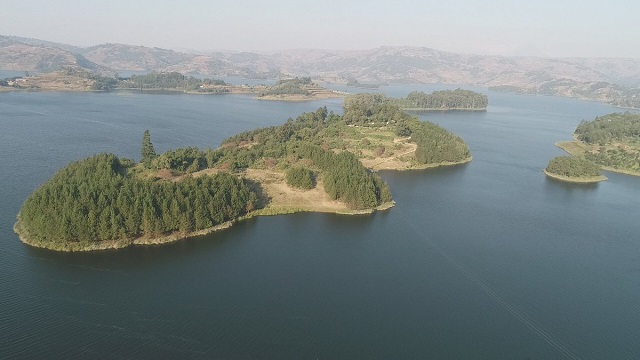 The Uganda National Ramsar Committee certified Lake Bunyonyi as a Ramsar site.
Lake Bunyonyi is Uganda's deepest lake and Africa's 2nd deepest lake located along with the shadow of the Albertine Rift Valley in western Uganda. It's one of the most incredible natural features making up the amazing beauty of the Kigezi region covering the districts of Kisoro, Kabale, and Rubanda.
Ramsar sites are wetland sites designated to be of international importance under the Ramsar Convention. The Ramsar has established in 1971 during an intergovernmental environmental treaty by the United Nations Educational, Scientific and Cultural Organization (UNESCO).
In 2020, environmentalists submitted their request to the government requesting to be transformed into a Ramsar site. Due to the uniqueness of Lake Bunyonyi.
On Thursday, the National Ramsar Committee endorsed the request. Joseph Ongol, a Principal Wetlands Officer at the Ministry of Water and Environment who chairs the committee says that the endorsement was reached in an agreement with officials from the Environment and Water Ministry, Ministry of Tourism, Ministry of Local government, Uganda Wildlife Authority, National Environmental experts and Conservationists.
The government has to protect designated sites to relish the benefits of Ramsar recognition, the endorsement will improve the monitoring of both sites against destruction.
The designated sites of Lake Bunyonyi will seize being public places rather than become under the caliber of the protected site of which their access is permitted under caution as well site use if prohibited. This will be of importance to see the sites grow to serve generations rather than being left to expose, misuse and depletion.
Eng. Ivan Mbabazi Batuma, the Kigezi Tourism Cluster President, says that recognition of Lake Bunyonyi will attract tourists.
Mbabazi added, "We are hopeful that the lake's profile will grow and as stakeholders, we hope to receive more tourists aboard which is quite exciting for the industry in this region."
Diaz Drake Owoyesigyire, a tour operator at Lake Bunyonyi says that the recognition will boost the conservation of the lake since it had started experiencing pollution.
And according to Wycliffe Rushaju, a tour leader at Gorillas and Beyond Safaris, asserted that the international recognition of Lake Bunyonyi's will attract more numbers of visitors as well improve its ability for researchers.
The Nature Uganda Executive Director, Achilles Byaruhanga, stated that the remaining work is for the government to write to the International Ramsar secretariat considering designating the two sites Lake Bunyonyi and the wetland.
Uganda has nine Ramsar sites among which include the Lake Mburo-Nakivali wetland system in Lake Mburo National Park, Murchison Falls-Albert delta wetland system, Lake Bisina Wetland System, Lake Nakuwa Wetland System, and Lake Opeta Wetland System in Eastern and Northeastern Uganda. Sango Bay-Musambwa Island-Kagera Wetland System (SAMUKA), Nabajjuzi Wetland System, Lutembe Bay Wetland System, and Mabamba Bay Wetland System.