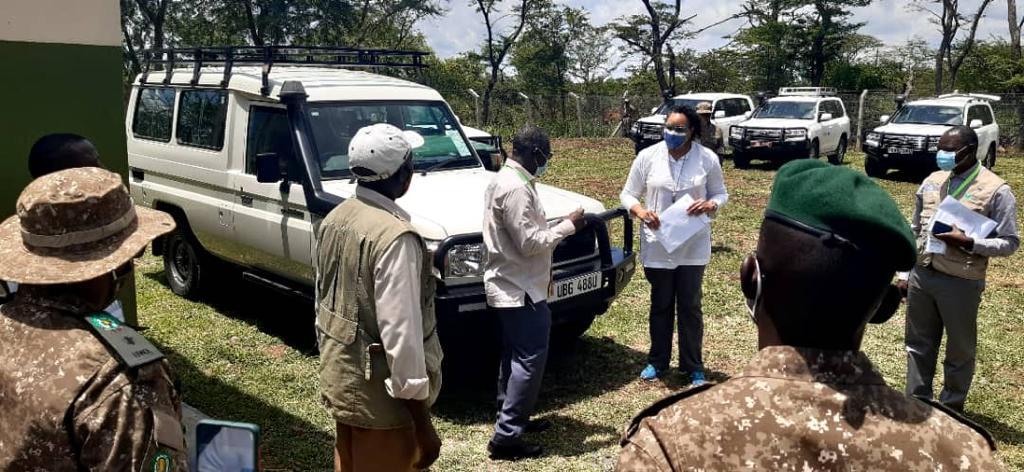 The Uganda Wildlife Authority Executive Director Sam Mwandha has today hosted US Ambassador to Uganda H.E. Natalie Brown in Karuma Wildlife Reserve area. H.E. Brown was in the area to commission USAID funded projects aimed at reduction of poaching and Human Wildlife Conflict.
Some of the HWC projects commissioned include the Community Chantuntumu Bee keeping Project in Nanda and Kololo villages in Diima parish, Kiryandongo district and canine unit section aimed at curbing poaching across the region.
These projects were implemented through the support of Wildlife Conservation Society with funds secured from USAID funded project. African Wildlife Foundation also donated a new land cruiser station wagon to the canine unit in Karuma to ease work in handling wildlife contrabands in strategic border areas.
In her remarks, The US Ambassador to Uganda H.E. Natalie Brown thanked the entire team at Uganda Wildlife Authority, Wildlife Conservation Society and African Wildlife Foundation for corporation shown in protecting Uganda's wildlife heritage and implored upon them to continue with the fight against wildlife crime.
She pledged her government support to Uganda for the next years to come since they have had a good working relationship with the government for more than 30 years. Among the guests included Country Director of Wildlife Conservation Society, Dr. Nampindo Simon, USAID Economic and Environment Affairs, Mrs. Regina Burns, Chief Warden – MFCA Mr. Edison Nuwamanya, Chief of Party USAID/Uganda Combating Wildlife Crime Activity – Mr.Geoffrey Mwedde.