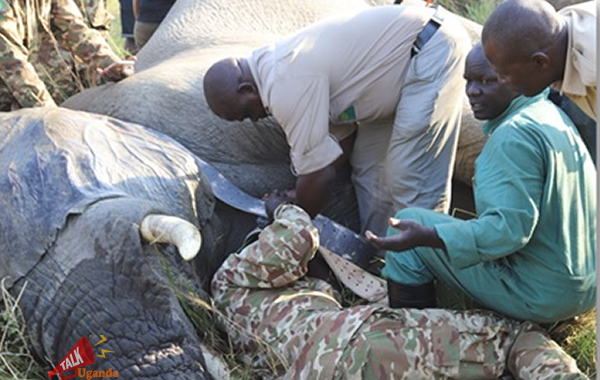 Uganda Wildlife Authority introduces the use of satellite collars to combat wildlife-human conflicts into communities around the Kidepo conservation area.
The areas around Kidepo Conservancy Area have faced challenges of wildlife encroachments in their premises migrating from the park. These wildlife-human conflicts have made Uganda Wildlife Authority initiate various ventures to ensure they're combated.
In the same move, the Uganda Wildlife Authority launched the use of a collar tracker on elephants to monitor elephant movements. This comes after elephants have always moved to the park neighboring communities and left a number of properties and gardens destroyed.
In December 2021, in Masese village, Namokora sub-county in Kitgum district, elephants evaded the garden in the wee hours and destroyed properties worth 7 million.
Uganda Wildlife Authority fitted 16 female elephants with digital/ satellite collars that have GPS that keeps sending messages to the phones and computers of the trackers.
Sam Mwandha, the executive director of Uganda Wildlife Authority, said we want to study our animals, monitor them and know where they are going, and manage human-wildlife conflicts.
Mwandha said, the Elephants being fitted with collars keep straying from Kidepo Valley National Park into land belonging to communities.
He added, elephants roam wide areas and many of them have not forgotten where they were when they were calves. They are straying into areas outside the park because they are retracing their old migratory routes.
The satellite collars, once the elephants depart from the park premises, the monitoring team is easily digitally alerted to hurry the intervention and block the animals from the communities.
UWA is working closely in partnership with Kenya and four (4) elephants in Kenya have been fitted with collars to enable the monitoring across the Kidepo conservancy areas. Confirmed by Samuel Amanya, the chief Warden of, Kidepo Conservation Area.
Earlier in January 2022, the authority launched a mobile application use dubbed Open Data Kit (ODK) to help report incidents of problems animals within the communities neighboring the conservation areas of National parks.