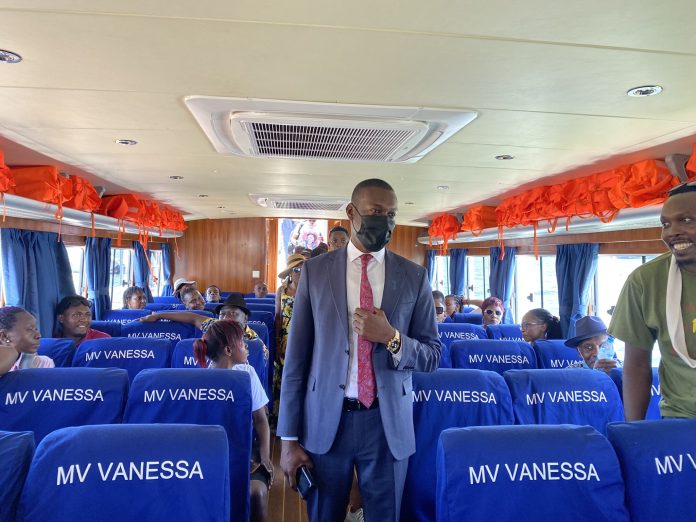 The ministry and other stakeholders launched a drive to promote Marine Tourism. The State Minister for Tourism and Wildlife Antiquities, Mr. Martine Muggara started up efforts to promote marine tourism on Uganda's water bodies.
On weekend, the minister to an expedition aboard MV Vanessa on Lake Victoria, the minister noted that several people in the private sector have set up accommodation facilities and various tourism attractions which need to be promoted.
Muggara noted that "We have a Lake Victoria Tourism Plan where we have mapped the area very well, indicating how we would like to utilize the water body".
The plan will help tourism promoters to convince several players and investors to take part in promoting marine tourism. He added.
There are plans to waive takes-off boats among other vessels being imported, it's another way to promote water transport and marine tourism.
The minister extolled tour operators and private sectors which he said, have managed to withstand the effect of Covid-19.
Muggara thanked all Ugandans who endeavored to tour the country and promote local tourism content and products.
Though some of the tourism stakeholders pointed out marine soldiers who monitor activities on the lake that tend to hinder travelers from accessing some points on the lake.
The minister said that tourists need security and protection along the lake which are key factors for tourism promotion. "Our plan will ensure that we work together so that security forces do not antagonize tourists and the other way round", said Muggara.
The marketing and communication officer of Nyanza Evergreen an entity which manages MV Vanessa, Ms. Donna Ayebare said the farm trip intended to reignite tourism on Lake Victoria and other water bodies in the country. Ayebare said tour operators, have not been including boat cruises in their packages, promoting marine tourism will help bridge the information gap between boat owners and tour operators.
The Breathtaking Uganda Chief executive officer, Isaiah Rwanyekiro called upon all Uganda tour operators and stakeholders to travel aboard some of the available water vessels in order to have a feel of what they intend to sell in terms of services to their clients in the tourism sector.