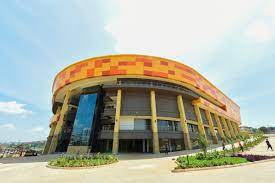 A list of Shopping Malls in Kampala where one can go for a world-class shopping experience.
When in Kampala, the truth is a bigger city with a number of perturbing matters especially when looking for descent shopping centers. Kampala is great with many tourist attractions, a business center, however, there is also a number of shopping malls with a variety of considerations, you don't need to look farther rather here is a list of descent shopping which is located within and outside of Kampala which can solve a number of your need selection. At this shopping one can do banking, shopping, restaurants as well others have recreations to quench off your tiresomeness.
Arena Mall
This is a newly constructed shopping mall in Kampala city center, it's the first retail development to be certified in African countries outside of South Africa. The mall is located along the bisect of Kibule and Nsambya Road southwards of Kampala city center. This ultra-modern shopping mall is designed in the arena-like architecture with a total built-up area of 19,289sqm hosting retail showrooms, supermarkets, coffee shops, exhibition spaces, Modern Cinema centers, Banks, Restaurants, Food court terrace, and recreations.
Acacia Mall
With all aspects of life, Acacia mall is fully encompassed with what one will need to have when in Kampala. Acacia Shopping Mall covers a space of 35,000sqm's retaining a number of pulsating life adorations facilities among which are; Supper Markets, Banking, forex bureau, restaurants, fashion, gyms, and fitness, recreations leisure and entertainments, children centers, beauty centers among many considerations. The acacia shopping mall is among the most loved shopping centers in Kampala located in Kololo hill off Kira road.
Forest Mall
Situated along the Lugogo By-Pass still in Kampala Nakawa Division. Forest Mall avails a number of services of latest drifts and inordinate assessment among which include retails stores including sports goods stores, pharmacies, supermarkets, book shops, fashion and beauty boutiques, health and beauty parlors,  beauty and health parlors, exquisite fashion boutiques, electronic shops, coffee shops. The mall also is headquarters for popular communication companies i.e. MTN and Smart TV satellite offices leisure and foot centers like KFC with a wider list of reflections.
Lugogo Mall
One of the oldest malls in Uganda is located along Jinja road in Nakawa Division in the East of Kampala capital. Lugogo mall for long was known for harboring the popular Game Stores and Shoprite supermarkets which just recently this year 2012 the 2 South Africa based stores decided to quit the business arena in Uganda.  This modern ultra-mall hosts a number of service facilities among which include Banking facilities, telecommunication centers, food services like coffee shops, furniture, vegetables, and other food products, with a wide range of personal and home care products, electronics among many. Lugogo mall is located in the same proximity as Forest mall.
Ham Towers
Located just in front of Makerere University main gate east African leading university, Ham towers is another spectacular shopping center with a variety of offers including; accommodation and leisure centers, various retail shops and grocery, stylish and fashion shops, supermarkets, highly rated food courts, recreation and cinema halls among many.
Freedom City Mall
One of the super-rated shopping centers around Kampala. Freedom city is located in Wakiso district along Entebbe road about 5km from Kampala city center, this is an amazing shopping center with great and variety of services which range from shopping, health clubs, recreations and leisure, children centers, entertainments center with halls for all kind of event, hotels and swimming pools, fine dining and fast food, fashion, and Banking. Freedom city is a city of its own with almost everything one would need in life.
Akamwesi Shopping Mall
Akamwesi shopping mall is strategically located in Kyebando along the northern by-pass road, it's a breathtaking mall of the city's confusion and noise. It's a modern shopping and business center with an exciting shopping experience accompanied by a free Wi-Fi lounge. Akamwesi shopping Mall is comprised of a batch of businesses like restaurants, cafes, salons, retailers, supermarkets, dry cleaning shops, mobile money and Banking agents, Pharmacies, etc. The mall has a large ample parking space and provides a swimming pool area, gardens for parties, a sauna, and a gym area.
Village Mall Bugolobi
The Village shopping mall Bugolobi is among the most popular malls in Kampala, it accommodates the headquarters of KFC an international fast-food chain, and with dining facilities there quite a variety of eating restaurants, coffee shops it's common here with the Java House. The wider range of services here includes options of clothes and fashion shops, Children's clothing, health and beauty centers, Telecom service centers, sports bar and gym and fitness, pharmacy, wine lounge, book shop, spa diagnostic center, mobile phones, and electronics.
Victoria Mall
Victoria Mall Entebbe is Entebbe's very first shopping mall with world-class shopping experiences. With vibrant and assorted occupants of mixed services and offers ranging from fashion, dining, leisure, and entertainment among others, shoppers can expect the best. When in Entebbe there is no need to rush to Kampala city center for the world-class and descent kind of shopping rather make a turn to this serene mall for your upended shopping.
Garden City Mall
This a recreation mall within the city center with a wider range of offers and business center, Garden city shopping mall is located in Nakasero on Yusufu Lule road. Looking out for a place to organize your data, or take your children out of Garden city is the best option with a variety of entertainment considerations and children centers. Among the vibrant offers here include shopping with various shops, supermarkets, and beauty and fashion centers, banking services, souvenir, and gift shops, book shops, and stationary and dining preferences are available.
Metroplex Shopping Mall
One of the world-class shopping centers in Uganda, the Metroplex shopping mall is located in Naalya a suburb in Kampala along the by-pass. At the mall, there are several shops ranging from clothing shops, food, play areas for children, movies, etc.