The US President to to hold the US – Africa Summit with African Leaders
"The US President Joe Biden intends to host the US – Africa leaders' summit to drive the kind of high level of diplomacy as well engagements that can aid to transform relationships and make cooperation possible". This was disclosed by the US Secretary of State Antony Blinken who is in Africa on his three country official visit.
"President Biden plans to hold a summit with African Leaders to show Washington's commitment to the continent". Blinken made this announcements on Friday 19th November, 2021, when visited Abuja, Nigeria on his 2nd stop, and here He with meet President Muhammadu Buhari and the foreign Minister Geoffrey Onyeama.
Blinken is the highest ranking Biden administrator official, he is on his first visit to the sub-Saharan Africa as the secretary of state.
Secretary Blinken while delivering his speech the Economic Community of West African States (ECOWAS), promised an overhaul of the US approach to Africa that will treat the continent as a "major geopolitical power " and that will boost development without the string attached to such deals.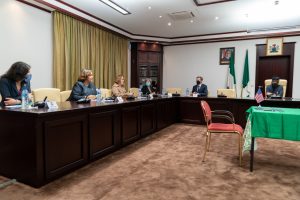 Bliken is on his three country tour to the sub-Saharan Africa which stated from Nairobi, Kenya, went to Abuja, Nigeria and is to end his tour in Accra, Ghana.
While in Kenya, Blinken meet President Uhuru Kenyatta and the Foreign Affairs Ambassador Raychelle Omamo and discussed the partnerships between their governments in line with "end the COVID Pandemic and investing in health, addressing the climate crisis, building a more inclusive global economy, and strengthening democracy and respect for human rights".
"As part of the Biden Administration's commitment to revitalizing global partnerships and alliances, President Biden will convene leaders from across the African continent for the second U.S. – Africa Leaders' Summit next year.  This Summit will continue efforts to strengthen ties with African partners based on principles of mutual respect and shared interests and values. It will also serve as an opportunity to listen to and collaborate with African counterparts on key areas the United States and Africa define as critical for the future of the continent and our global community". This is a statement from the US White House from Washington.
This comes forth as china has been holding various meetings with different African countries.
As well some US allies of UK, France and Japan have held several meeting with various African leaders.