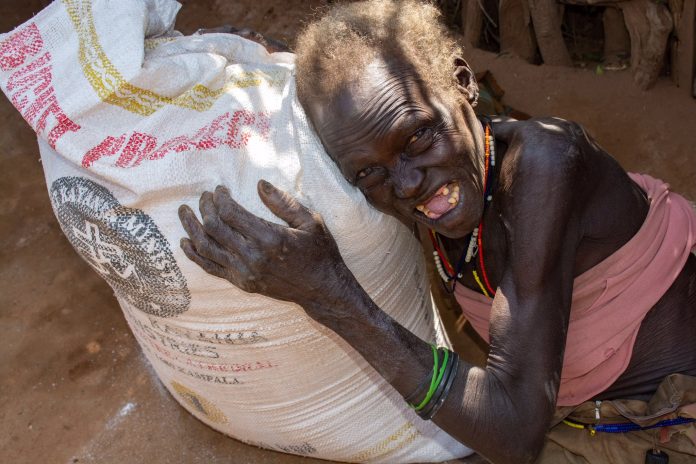 Miracle Center Cathedral senior Pastor Robert Kayanja initiated a food soliciting campaign called "Karamoja cry." This came after news circulated showing how the people of the region were suffering from unstoppable hunger.
It has been months since the Karamoja region has been experiencing a silent pandemic of hunger. This resulted from the prolonged drought that failed crop growth has caused undistributed hunger in the region.
Through the Robert Kayanja Bucket Initiative, the ministry started the first phase of the Karamoja cry campaign in July.
About 60 tons of a special protein nutrient-rich blend consisting of a mixture of flour, milk, soy and calcium powders, natural sugars, and vitamins. Mixed and warmed a serving of this blend is filling the hungry stomachs of over 6,000 children and adults daily.
In the first project, every family was given a sack of 50kg nutrient floor. This was only to quench the hunger in a short time.
Pr Robert Kayanja the proprietor of Miracle Center Cathedral and senior pastor, during the launch of the fundraising drive of "Bucket Initiative Karamoja cry," which was attended by several media champions of Uganda. The pastor said that they have a goal of raising UGX10 billion to buy food rations and procure farm inputs for the sub-region
During the fundraising launch, the Apostle Grace Lubega of Phanero pledged on behalf of the ministry to contribute to UGX 100.
Apostle Moses Mukisa of Worship Harvest Church said Rick Warren once said that sometimes the body of Christ behaves as if we are a mouth and the only thing we can do is talk. "It is time to go beyond the talk. It is time to be the feet and hands of Jesus."
Pr Kayanja added that the Karamoja cry will enable us to continue our feeding project and begin this next phase to equip the people with lifesaving tools.
People in this region are incredibly weak and do not have the strength to farm the land.  We must equip this region with the tools to be self-sufficient.
There is a need to raise the funds to purchase Karamoja 10 imported machinery tractors (plow and planters), which can help this indigenous populace to till the available land.
"Our hope is to purchase ten new tractors and each tractor costs 182 million UGX. Farming equipment and seeds to produce sorghum, beans, and maize are also needed. These seeds are all drought resistant and will produce a plentiful harvest," he added.
We have so far collected UGX172m our target is to raise shs10 billion where shs3.5 billion go into buying tractors and shs5 billion will cater for food and the rest will be used to buy seedlings so that they can grow their own food, Pastor Kayanja added.
NARO must give us quick seedlings that can grow in a month and we plant them in Karamoja. People who own tractors should reach out and help these people to dig and plant because they are weak. – Pastor Kayanja.
In July the government sent packages of relief food to the region. At least 790 metric tons of food (552 tons of maize floor and 238 tons of beans). And this was the second time after 2,000 metric tons of food was first sent.
With the program, the government committed shs135b to feed Jaramoja for the next three months.