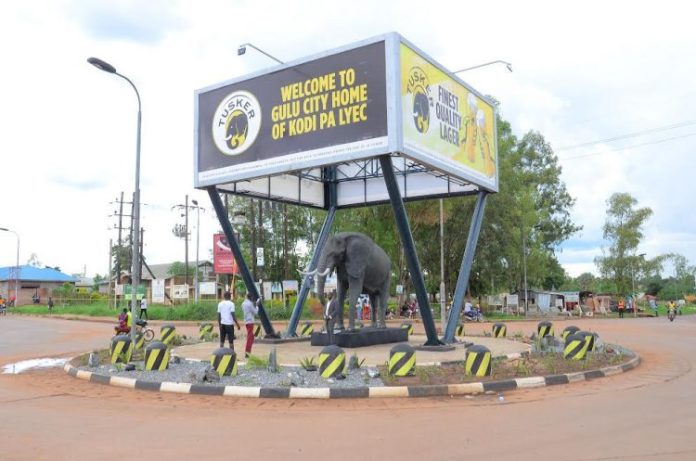 A symbolic elephant statue was unveiled in Gulu City to honor the significance of the creature to the Acholi people. The monument was installed with the sponsorship of Nile Breweries.
The Uganda Chief Justice Alfonse Owinyi Dollo and His Highness Rwot David Acana II the chief of the Acholi region headed the unveiling program.
The elephant monument was installed in the city center becoming the first unique feature that residents and visitors to Gulu city can see. It's located at the Gulu – Ker Kwaro Acholi – Airfield Road.
The elephant holds a deep sentimental value to Acholi culture, found also in the center of the institutional flag representing strength and supremacy and a peaceful nation.
Well gracing off the unveiling of Justice Owinyi Dollo, "We are proud of our culture, traditions, and heritage as Acholi people and the significance of this majestic creature to our culture and traditions cannot be overstated. It is a fitting sign of respect and reverence to a great people and a great city and compliments the already beautiful nature of this place. I appreciate Uganda Breweries for this gesture".
Alfred Balikagira, Supply Chain Director, Uganda Breweries, "We were honored to partner with Ker Kwaro Acholi to fund the installation of this monument which will be a unique identifier from which the people of Acholi can draw pride in their cultural heritage. The elephant also holds great significance to our business as the official logo of our beloved brand, Tusker, which celebrates 100 years of existence this year".
Status plays an important role symbolic role for various people of different beliefs, they act as a visual reminder of cultural values and a vehicle that solidarity between individuals and the wider group.
When entering western Uganda there is a statue of a long-horned cattle describing the social and economic lives of the western people. The Mengo palace is decorated with 2 lion statues on either side of the gate. The lion – Entale – monument in the fort portal symbolizes the courage, nobility, royalty, strength, stateliness, and valor of the Batooro.