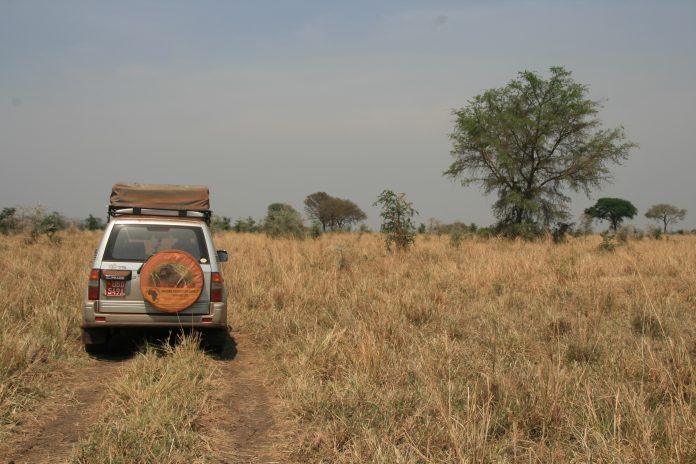 Uganda's best road trip adventure is the Uganda, gorilla, chimpanzee and big5 safari tour. Without a question, the best and most affordable way to tour Uganda is by renting a 4×4 rooftop tent car with comping. You will travel to the spectacular Murchison Falls National Park, Kibale Forest, Queen Elizabeth, and Bwindi Impenetrable Forest National Park.
The amazing Ishasha tree-climbing lions, mountain gorilla treks, and chimpanzee tracking are all highly likely to be observed. This tour is perfect for first-timers, groups, and families and offers moderate lodging inside the game parks and camping space.
When you land at Entebbe International Airport, a member from 4×4 Car Hire Uganda will welcome you and orient you through the rental car, the route and regulations in Uganda. To check in, you will be driven to your hotel. The rest of the day is yours to spend in any way you like as you explore this fascinating city. Our team will set up a car or boat for you if you want to see the Mabamba Wetland or Ngamba Island.
Road trip to Lake Mburo National Park, Equator Stopover. After breakfast, go through Masaka City to Lake Mburo National Park with a brief stop at the Equator point. After arriving in Lake Mburo in time for lunch, you can unwind for the remainder of the afternoon and evening. You will go for the magnificent Mburo night game drive at 7 o'clock. Expect to observe nocturnal animals on the game drive, including snakes, hyenas, owls, and (on a lucky day) the elusive leopards.
Morning Game Drive, Lake Bunyonyi and Bwindi Impenetrable National Park. After breakfast, we will embark on a morning game drive or an optional horseback safari and enjoy yet another exciting wildlife spectacle. We will take our adventure to the magnificent Lake Bunyonyi which is popular for its beautiful count of 29 small islands, most of which will be seen on the balcony of the restaurant as you enjoy your lunch. We will wind up the day with a drive to Bwindi Impenetrable National Park for relaxation and preparation for the following day's gorilla trekking.
With our 4×4 rooftop tent Gorilla Trekking in Bwindi Impenetrable National Park. At the UWA briefing point in Bwindi, the locals will entertain you, and afterwards, each group will be assigned a gorilla family to trek for the day in the company of an armed ranger. Due to the close relationship between humans and these gentle giants, travelers showing signs of airborne diseases are discouraged from coming close to mountain gorillas. Alternatively, they can be completely denied the chance of trekking if rangers find it more severe. You are advised to treat flu and cough before traveling.
The trekking experience takes between 2- 8 hours and involves slippery trails. You may hire a local potter to help you during the trek with carrying luggage and gadget. Though tracking is the main attraction of the day, a range of stops can provide a relaxed opportunity to spot birds and monkeys while exploring one of Uganda's loveliest rain forests. After trekking, you will be awarded a certificate and transfer to Queen Elizabeth National Park.
Tree Climbing Lions & Boat Trip on Kazinga Channel. Today, after an early breakfast, you will get ready for an exhilarating safari in Queen Elizabeth's Kasenyi area, which is also known for its abundant acacia patches and lions that can scale trees. The odds of seeing a leopard, buffalo, or hyena are likely. This region features saline crater lakes where flamingos can be seen during the day if you enjoy watching birds.
You will go on a boat safari in the Kazinga Channel, which connects Lake George and Lake Albert, following lunch. Along with herds of buffalo and elephants rushing to drink at gorge shores, you will see more hippos here than you will ever see anywhere else. Amazingly, crocodiles in this area live peacefully among other animals without attacking them. You'll eventually return to the lodge for relaxation.
Game Drive and Self-drive to Kibale National Park. After breakfast, enjoy a couple of hours on yet another fantastic wildlife drive before heading to Kibale National Park. Before moving on to your next location, you will participate in a tour to the Lake Katwe salt mining settlement. Both the Toro Kingdom Palace Tour and a lunch break are included. You'll check into your hotel later that night.
Chimpanzee Tracking and Bigodi Swamp Walk. Have breakfast first thing in the morning, then get ready to meet our cousins in the wild. Carrying enough drinking water is advised in case you decide to pursue chimpanzee habituation rather than tracking. The better choice is a packed lunch. A ranger teaches you the guidelines for interactions with chimps, birds, and monkeys during the briefing before the start of our tour. We'll set out on a community tour in the late afternoon, taking you through rural areas, marshes, and tea plantations.
At Bigodi Wetland, you can learn how to manufacture crafts and herbal medicines from the people in this area. You will get the chance to sample some of the best gins, beers, and coffees that are produced locally. Nevertheless, the highlight of these walks is the transition to see at least five different species of monkeys and catch a glimpse of the blue turaco.
Transfer to Murchison Falls National Park. We will begin the day with an early breakfast before driving to Murchison Falls National Park, where we will enjoy the beautiful landscape and plantation terraces. You will drive to our hotel after arriving for an afternoon hike to the top of the falls and later return to the lodge for relaxation.
Game Drive and Boat trip. Today we will enjoy a half-day game drive in the northern sector of Murchison Falls National Park. In the afternoon, we'll go for a boat cruise on River Nile towards the bottom of the falls where you will hike to the top of the falls. Your driver will be waiting for you on the other side to drive you back to the hotel.
Murchison Falls is the largest game park in Uganda and is blessed with huge numbers of wildlife among which lions, leopards, giraffes, elephants, buffaloes, hippos, etc. can be sighted grazing in the Savannah. This grants you the perfect chance to complete your African Big Five count.
Rhino Tracking and Self-drive to Entebbe Airport. We will begin the day with an early breakfast before driving to Ziwa Rhino Sanctuary. The Ziwa Rhino Sanctuary is Uganda's only white rhino breeding facility. This conservation project was established in order to breed these animals and hopefully, one day reintroduce rhinos to game parks where they had become extinct due to poaching and political instability in the early 1970s and 1980s. Later, you will end your trip with a transfer to the airport.