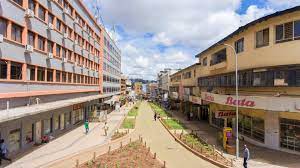 KCCA asked to enforce the use of the none-motorized road in the city center
For look Kampala has suffered with a problem of poor road facilities resulting into the dramatic traffic jam which rocks the capital during morning and evening rush-hours. The availed roads were always overwhelmed with over flooded motorized users and they could not efficiently support some other road users like the lame people with and without wheels and the none-motorized users.
In 2018, KCCA started on a project aimed at creating space for none-motorized rider, the Namirembe road and the stretcher Lumu Street became the first road projects that were being created within the city center that designed with corridors for pedestrians and cyclists and Lorries and trucks would only be allowed to offload from 10pm to 6am.
Ever since the road was constructed and commissioned, it has operated in the other way round only seen filled with street vendors, used by Bodaboda riders. There hasn't been any difference in using the road from other roads and the confusion has crowed the road.
The Ministry of Works and Transport has asked Kampala Capital City Authority-KCCA to enforce Non-Motorized Transport along Namirembe road stretching to Lumu Street.
This special road runs from Bakuli connecting to Hoima road sloping down as Namirembe road, connecting other many various roads of Old Kampala, Rubaga road, Mwanga II road, Nakivubo blue continuing to connect to Lumu street which also connects to Entebbe road.
The state Minister for Works and Transport Fred Byamukama on Sunday 19th December 2021, appealed to KCCA to implement the Non-motorized Transport along the Namirembe – Lumu street corridors, if they enticed the government and the donors to fund projects of that kind, then they should consider that they are operating respectively.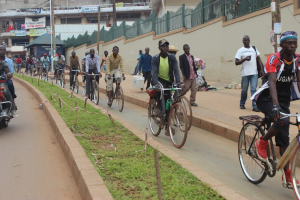 KCCA as well still has more projects of such kind in plan including the soon project to start at the Makerere Hill.
The challenge of not implementing things like they are supposed to be working has left many road users abused by vehicle and public motorcycles commonly known as Bodabodas. Today reaching at Namirembe road stretch it's crowded with public Taxis and Bodaboda and street vendors who always form uncalled for kind of noise in the city center.
Using roads in Uganda at large, most of the motorized riders and drivers have a mind that they are designed for their case. This may not be the problem, but because the road deigns with no pedestrian space backup their selfish mind.
Well, due to availing program of road redevelopment going on across the capital of Kampala, pedestrian walk ways have been created on many roads in all the 5 Kampala division. This is promising maybe in town to come this will help to reduce the rate of accidents and avails none-motorized road users with space to wander across the city.