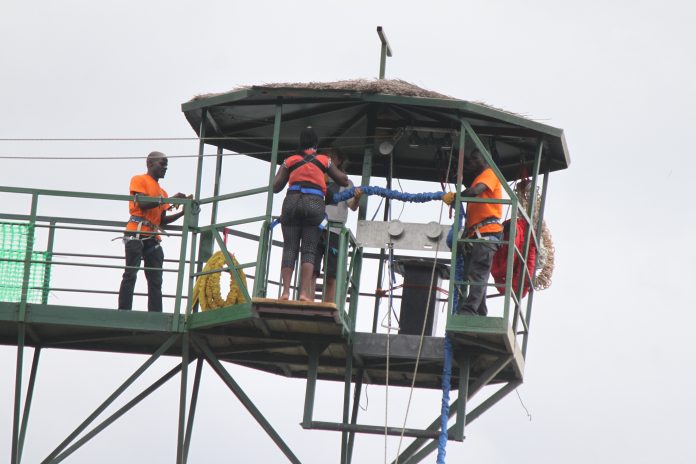 Bungee Jumping Extreme Adrenaline is back in Uganda. It's closely two years when Bungee jumping activity is on lock down after operating for nearly 10 years, but what a surprise! Bungee jumping has been revamped back in Uganda.
Among the most thrilling adventure encounters one shouldn't miss to take on a vacation to Uganda would be jumping on the bungee and head kissing the world's longest River Nile.
Jinja city mainly known as the adrenaline adventure capital of East Africa still stands to present another amazing Bungee jumping experience.
Along the Nile everything starts and happens just fewer kilometers off Lake Victoria and the source of the Nile River but on a trek along the river one has to kiss waters with Head touch.
The river on the other side offers countless opportunities to undertaking just in proximity to Bungee jumping.
On October 23rd, 2021, Bungee jumping activity was launched back in Jinja still at the same usual point.
This is another thrilling adventure consideration to relax you off that amazing long journey safari adventure through bossing Uganda National Parks, or from the noisy Kampala capital. No mixed minds are left un-turned when decided to take Bungee Jumping adventure.
Jump again, Bungee jumping is back in Uganda, the adventure is done in Jinja located in the Eastern from Kampala capital. The adventure is not for the heart faint but adventure enthusiasts who always are looking out for something special to undertake.
Bungee Jumping in Uganda is operating at an international standard, taking on this adrenaline adventure doesn't require one's experience but the readiness counts much.
Uganda upended among the few countries in Africa where one can take part in Bungee jumping among other countries Include; Kenya (Rapid Camp), South Africa (Bloukrans Bridge), and Zimbabwe at (Victoria Falls), taking on this adventure here in Uganda is a great vacationist score.
At the launch of Bungee Jumping, considering the chief marketers of tourism in the country who are the Uganda Tour Operators and media personnel.
Rob Davies the CEO of Bungee Uganda a new operator of Bungee jumping in Uganda offered them a first slot of jumping in tasting the delightful ness of the artifact they are likely to sell to their potential clients.
How Bungee Jumping is done?
Next to your stretched ride initiative from Kampala, triumph Jinja then you're set for the escapade as it can done at any time upon reaching. It's an echoing idea arriving at the Bungee site at least an hour before a gravitational fall takes a simple walk around, and relax prior to jumping.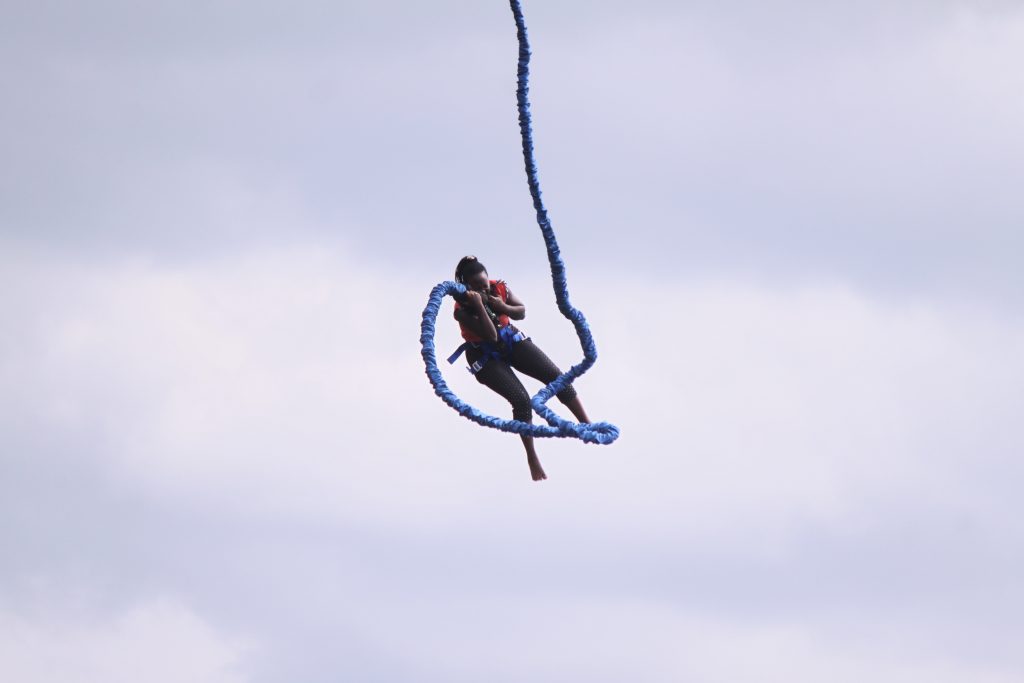 It all starts by registering all guests ready to take on the Bungee and making payments as well signing the waiver form. Hooo, this may scare away a number of would-be potential jumpers but this is a standardized operation which highly gives safety first priority.
Upon registering guest decide which experience they would like to participate it which are the short jumps and the long jumps which proceeds until the head touches the river waters.
Then participants have to be psychologically prepared then one at a time is briefed as others are waiting for their turn. Then tied in the jumping gears where both legs are tied with a single rope enabling jumpers to fall freely only supported by the Bungee.
On falling you're strongly warned not look to the 44m downfall especially for first timers and this a time to challenges heights.
At this moment some of participants as they gain more confidence others are losing confidence. Bungee operators after ensuring you're tightly ready to go, stand a side beside are your cheering team at the balcony the operator start counting for your turn 1,2,3, Bungee.
This is the moment which changes your entire adventure experience tales, spending the fewer seconds flying to head touch the waters with few loops bounds then supported by a team of guides with a boat to ride you on land.
How much is Bungee Jumping in Uganda
The cost of jumping alternate with guests, as for foreigner pays a cost of US$115, resident foreigners pay US$100 and Ugandans favorably pay Ugsh200,000.
Who is not eligible to do Bungee Jumping?
As scripted above Bungee jumping adrenaline adventure is not the pessimists, being ready is very important both physically and psychologically. As being in space at the unlimited falling can cause one's torture on both metal and physical being of someone.
One should be at least 13years and about as well weighing over 35kg
Should not be a pregnant lady
Must not have heart related diseases