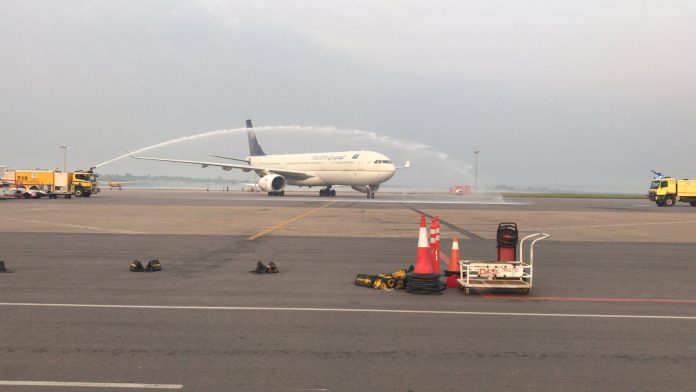 Today February 2, 2022, the Saud Arabian national carrier hit the grounds of Entebbe International Airport to premiere their first-ever direct flight from Entebbe (EBB) Uganda flying directly to Riyadh's King Khalid International (RUH).
This is the first-ever direct flight that runs from Entebbe to Riyadh and the route can take about 5hours covering a distance of 3,164km. Today the Saud's Airbus A330 aircraft landed at Entebbe airport at 7:00 am and was amiably showered.
Saud's aircraft tapping into Uganda's airspace becomes the 17th international scheduled line at Entebbe international airport. However, it's the direct flight from Entebbe international airport to Saud's Riyadh's King Khalid International airport. And Entebbe becomes the fourth route for the Saud Arabian official airline route in East Africa after Addis Ababa (ADD), Mauritius (MRU), and Nairobi (NBO).
In an intention to make connections to strengthen associations between the two countries (Saudi Arabia and Uganda) which ended up signing a memorandum of understanding to deepen cooperation which happened last October.
In the meeting of last year, Uganda's foreign minister Gen. Abubaker Jeje Odongo and the Saudi Arabia H. E Ahmed Bin Abdul Aziz Kattan, Minister of State for African States Affairs of the Kingdom of Saud Arabia, two agreed to strengthen trade ties. Gen.
Jeje Odongo urged Saud to consider importing more products from Uganda, such as fruit, vegetables, spices, and milk. He also urged the Middle Eastern country's government to evaluate new investment opportunities in Uganda, with a particular focus on the agriculture, mining, and tourism industries.
Minister Kattan conveyed his appreciation for Uganda granting Saudi Airlines the right to fly between the two countries and assured that the agreement will result in increased volumes of trade between Uganda and Saudi Arabia.
He mentioned that Uganda and Saudi Arabia share the fight against terrorism and violent extremism. The Kingdom of Saudi Arabia played a key role in the establishment of the United Nations Counter-Terrorism Center (UNCCT) in 2011 to promote international counter-terrorism cooperation and support Member States in the implementation of the global counter-terrorism strategy
The Saud minister further emphasized the pledge made by the Crown Prince, H.E Mohammed bin Salman to invest 1 Billion USD in Africa under the Saudi Africa Investment Program, where the Kingdom will support African countries with investments and loans this year to help their economies recover from the COVID-19 pandemic.
This comes at a peak time of labor exporting from Uganda and to Saud Arabia, every year there are thousands of young men and ladies going to Arabian countries particularly Saudi receiving the highest concentration of labor from Uganda.
The two countries have signed an agreement aimed at protecting the rights of Ugandan migrant workers who fly to Saudi Arabia for greener pastures. An estimate indicates that there are more Ugandans working in Saud Arabia with about 80,000. In 2016 and 2019 Uganda had bits of banning Uganda from going to Saud Arabia and Jordan due to poor working conduct which has resulted in the death of many Ugandans but later they were allowed to travel after bettering the protection of their rights.
Now the introduction of the direct EBB to RUH route will ease the transfer of many workers to Saud Arabia. The flight is scheduled to take two turns in a week.