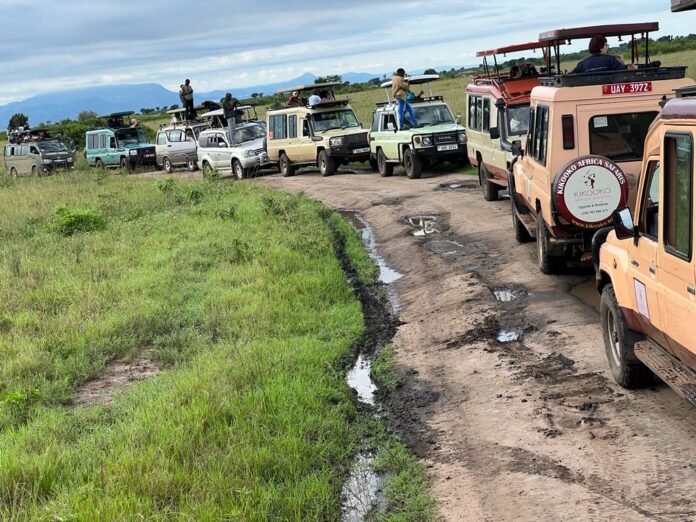 The government of Uganda is planning to name a road after two foreign tourists killed inside Queen Elizabeth National Park by suspected ADF rebels.
The Minister for ICT and National Guidance, Dr. Chris Baryomunsi said on Tuesday that the cabinet had passed a resolution to name one of the roads in the country after David Jim Barlow, a British citizen, and his South African wife, Emmaretia Celia Geyer who was killed together with their Ugandan driver, Eric Alyai.
"As a cabinet, we took the decision that for these tourists (Killed in Queen Elizabeth), we are going to name one of the roads in Uganda after them," Baryomunsi said.
The Ugandan government, through its High Commission in London in the UK, is in touch with the deceased's families, who will be supported, as well as their driver, who hails from Kaberamaido, said the minister.
The trio were killed when suspected ADF rebels and terrorists attacked their vehicle inside Queen Elizabeth National Park, shooting them dead and setting the vehicle ablaze.
Police on Monday said the bodies of the two tourists are still at Mulago Hospital in Kampala, pending the arrival of forensic teams from the UK and South Africa who will be working with the Ugandan team of pathological experts to release the autopsy.
Whereas Minister Baryomunsi didn't explain the rationale behind the naming of a road after the two tourists, it is said the move is meant to pay respects to the duo but to also show that they were significant and must remain in public memory.
Located in the southwest part of the country, about 400 km from Kampala, Queen Elizabeth National Park is Uganda's second-largest and most popular conservation area measuring 1,978 square kilometers. The park is the second most visited national park in Uganda after Murchison Falls National Park.
The park was first gazetted in 1952 as Kazinga National Park, but its name was changed two years later in honor of the visit by the British monarch.
Queen Elizabeth National Park is popular for its breathtaking biodiversity, including the tree-climbing lions, which are a rare species of animal found in the sector in Queen Elizabeth National Park, Ishasha, making this park the second area in Africa popular for tree-climbing lions.
Spread across the Albertine Rift Valley, Queen Elizabeth also offers savanna, acacia woodlands, tropical forests, fertile wetlands, and lakes within its borders, providing a safe haven for over 600 bird species and 95 mammals, including elephants, hippos, African leopards, and 10 species of primates.
The park has been recognized by Birding International as an International Birding Area. The two-hour boat ride along the Kazinga Channel is another whole new experience for tourists to Uganda