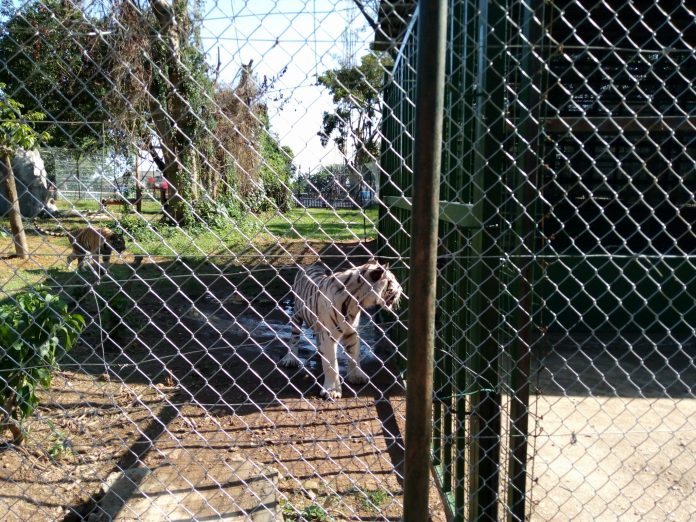 Uganda Wildlife Education Center (UWEC) and Yuti Breweries Ltd under their flagship beverage brand Yura Beer assigned them the naming rights for the white tiger at Entebbe zoo.
The two parties of UWEC and Yuti Breweries then officially named the male white tiger YURA.
Due to financial challenges registered because of the COVID-19 pandemic lockdown, the agreement aims at actualizing the collaboration of Yuti Breweries Ltd and UWEC towards the welfare of the tiger.
The Yuti Breweries sponsorship deal is worth sh30 million for the welfare of the animal and its surrounding.
"Following the introduction of these amazing species, we have come in to provide a helping hand such that some funds can be used to ensure that the zoo gets back to its previous booming self," said Punit Shah, the Managing Director of Yuti Breweriies at the agreement signing on November 19, 2022.
"As Yuti Breweriies, we will make sure to have activities and donations every year to inculcate awareness among the public on the importance of protecting, preserving, and conserving this endangered species" he said.
He also called upon all Ugandans and foreigners to visit the Entebbe Zoo and watch the tigers as well as a host of other wildlife in their fenced enclosures.
"By visiting UWEC, wet we can all contribute towards the welfare of all the animals in this place while ensuring that the learning process also continues for the little ones."
Yura tiger at UWEC and other were imported into the country on March 7, 2020, before they were unveiled to the public after undergoing mandatory institutional quarantine and medical examination.
According to Eric Ntalumbwa, the UWEC public relations manager, each of the two tigers consumes between 8-10kg of meat everyday among other foods such as chicken and liver, equivalent to a cost of sh150,000 per day. Uganda remains the first East African country to accommodate tigers, which last existed in the 1970s.
According to Vincent Kalanzi, who worked at Entebbe zoo from 1972 to 1976, said the last tiger at the zoo was shot dead in the 1970s after escaping from its enclosure and injuring one person.
Deo Bwire, the UWEC marketing manager, called upon more companies, individuals and organizations to come forth and name the remaining female gold striped tiger.