MV Pamba resumed its operation after 16 years of being grounded in Luzira at Port Bell, Kampala Uganda. The vessel operated across the East African members connecting Uganda, Kenya, and Tanzania via Lake Victoria.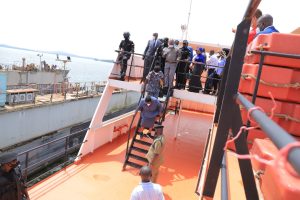 The Cargo wagon started working in 1986 and was grounded shortly after colliding with a wagon ferry MV Kawa in 2015. It's been grounded for 16 years and now has resumed its East African routes.
Prime Minister, Robinah Nabanjja on Thursday, February 10, 2022, launched MV Pamba at Fort Bell, Kampala to resume its operations on Lake Victoria.
The MV Pamba ferry wagon is a government-owned vessel, operated by Uganda Railways Corporation (URC), but the ferry was leased to the Mango Tree Group invested nearly 18bn shillings to rehabilitate the vessel to recover and resume its operations.
In 2020, the government of Uganda signed an MOU with the Mango Tree Group to take on the rehabilitation of the vessel.
The Wagon ferry resumes with a carrying capacity of about 21,000 tonnages of cargo, carrying about 22 wagons.
The ferry resumes its routes from Fort Bell to Jinja (Uganda), Kisumu (Kenya), and Mwanza (Tanzania).
The Minister for Works, Gen Edward Katumba Wamala, argued traders to embrace the use of the ferry, ease the roads with the many cargo vehicles.
It's good news for traders to consider using water transport to move their goods which seems cheaper compared to other means.