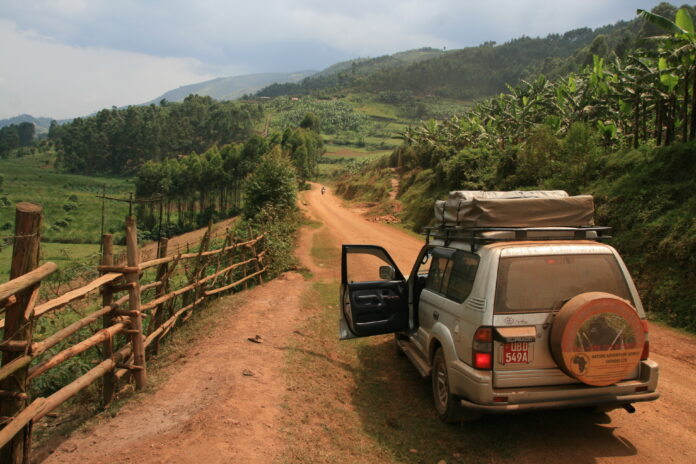 A safari tour through Uganda is unforgettable when its self-drive trip on a private guided safari backed up with unique bush camping on top your land cruiser in a rooftop tent from experts in 4×4 Car Hire Uganda in East Africa.
This wonderful method of touring allows you to park is some truly stunning locations and better enjoy the views from a spacious elevated position. Hiring one of our rooftop tents is the perfect choice for couples or couples touring across East Africa.
Traveling with our 4×4 rooftop tent car it is cost effective alternative while on East African road trip, allowing you to use your own car without the worry of hiring an expensive vehicle. Our fleet of cars are available with the option to include all the camping accessories you need to make your Uganda adventure the trip of a lifetime.
Cost of a Rooftop tent car
Land Cruiser V8 with a rooftop tent is one of the best off-road vehicles that has ever been made. The car accommodates 2 pax rooftop tent, it can manage any off-road terrain without worrying about where you will be sleeping. With a 4500cc petrol engine; it can manage any long-distance route and cost from 80$ to 100$ per day depending on the number of rental days and circuit to take.
The Land cruiser VX is the diesel version of the Land cruiser V8. It has a 4200cc diesel engine making it cheaper in terms of fuel compared to the 4500cc petrol engine of the Land cruiser V8. With a Land cruiser VX, comfort is guaranteed at a reasonable charge from $80 to $100 per day
Group self-drive safaris will require you to have more than one car. In case you are on budget; take 4×4 Land Cruiser Prado TZ/X with rooftop tent are the way to go. They are ideal for a group of 2 – 4 people and easing self-drive safaris in Africa. Rates a subjective to your rental period $80 – 90$ per day
The Land Cruiser V8 offers the best comfort than any other safari Land cruiser. In order to maximize comfort if you are driving through East Africa you can opt for a Land cruiser V8 with rooftop tent instead of the Land Cruiser Prado with a rooftop tent.
The Land Cruiser V8 has strong heavy-duty shocks that can maneuver through the collogetions of the rough routes in East African parks like Ngorongoro and Serengeti and here the price is a bit higher $110 to $125 per day and fridge inclusive.
The Land Cruiser GX comes with a stick gear configuration making it the best choice for anyone interested in a stick gear safari car. It comes with 4200cc diesel engine making it more fuel-friendly than the Land cruiser V8 4700cc petrol engine. It also comes with open roof ideal for game viewing and fridge $95 to $110 per day
The Land Cruiser Prado is the ideal budget car rental with a rooftop tent option. It can also be equipped with a fridge upon request at extra US$5 per day. The Prado comes with either a 2700cc engine or a 3400cc petrol engines. For the diesel engines, they are available with a 3000cc diesel engine and ranging from $80 to $90 per day
There are many reasons to choose a rooftop tent. Here are just a few:
They are fast to setup
Setting up our roof tents is much quicker than pitching a traditional tent.
Cost effective
Far cheaper than booking hotel booking when you can sleep on top of your vehicle.
Spacious
Our tents are comfortably sleep two adults with enough space for a small child too.
Versatile
With the optional annex attached, there is space to escape from the elements or to store kit you might not want in your car.
Secure
Our tents are bolted directly to your car and feature a rigid frame inside – there is no risk of them blowing over in windy conditions.
Highland weather proof
Our rooftop tents are fully waterproof so will withstand even the toughest downpours.
Safe
High up on your car roof you are protected from dangerous wild animals such as lions, rattlesnakes and venomous spiders, all of which you may encounter on the NC500. Ok, so maybe we made the last one up.
Camping Tips for Rooftop tents
While on your, keep your sleeping bags in the rooftop tent in case you are driving on a dusty road
Make sure you avoid over speeding; the car stability does not remain the same towards the end of your trip because of a few wheel-related issues that might arise during your trip.
Keep close off your rooftop tent very well to avoid dust or getting affected by rain during your drive
Keep in mind and make sure that the ladder is locked before climbing into your tent
And lastly don't smoke in the tent
Camping equipment hire
Anything you'll need for your adventure. Tables, chairs, cooking equipment, lighting. If there's something you need, please let us know and we'll try our best to arrange it for you.
Included in a full Camping Gear
A water proof tent
Camper chairs
Camper tables
Pair of Pillows
Sleeping bags
Mattress
Kitchenware
Cutlery
45 Liter fridge at US$5 per day.
Gas cylinder/stove
BBQ grill