Apoka Safari Lodge located in the jagged hills, the golden grasses, the plains dotted with wildlife, the soft glowing light in Kidepo Uganda's most remote park, far away from city life. Therefore, we our fly-in tours in Uganda you can enjoy the amazing hospitality services of Uganda Safari Lodges with Wild Places Africa lodges and camps in Uganda parks.
The rooms at Apoka have been built with comfort in mind. Everything is handmade by local craftsmen; everything is large and capacious. 10 expansive rooms with natural canvas walls surround a rocky kopje with endless views across the Savannah. With inside sitting rooms and private verandas there are plenty of places to relax, read and sprawl.  Big hand – hewn beds with soft duvets are draped with mosquito nets, hand-woven woolen carpets, extra-large plush towels, over-sized dressing gowns…you may be as far away from the city as you'll ever be, but you won't miss a thing.
Step outside to a sheltered terrace and slip into your own outdoor stone bathtub, big enough to fit the whole family. The swimming pool at Apoka Lodge is deep and cool, has been carved out of the big rock. This is the kind of pool that makes you want to jump in, splashing and yelling, feeling like a kid again.
Ready to move out across the Savannah and walk with zebras? Spend time in a Karamojong village learning about their traditional way of life? Enjoy a Sun downer in the arms of a massive fig tree? Sit and watch a breeding herd of elephant frolicking in the mud? This is the place for you. Come and drink in the view, come and feel the lion's roar in your chest. Come and stay a while.
Semliki Safari Lodge
Staying at Semliki is like stepping back in time. It evokes the spirit of the old explorers; it piques curiosity and inspires discovery. Semliki is secluded and intimate. With a maximum of 18 guests, we promise excellent service and attention to detail…and an unforgettable experience.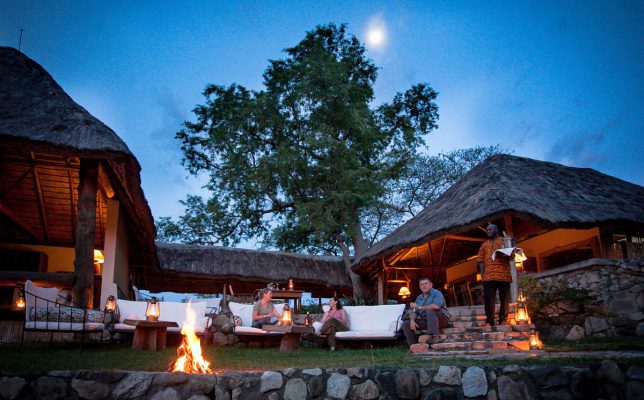 Guests stay in golden-hued tents with gleaming hardwood floors. Staying under canvas is one of the most romantic and exciting things to do in on safari in Africa. You hear the sounds, you feel the wind, and you smell the rain before it comes.
The tents are protected by a thick thatch roof and feature en-suite bathrooms with running water, hot showers and flush toilets. Tea or coffee is brought to you in the morning so you can lie in bed or sit on your veranda and drink in the view before the day begins.
The main lodge is where our guests gather round the chunky dining tables or sprawl in the comfy armchairs and sofas telling stories and sharing experiences. Lit by lanterns and open to the elements on one side, at Semliki you really feel like you are touching the wild.
Clouds Mountain Gorilla Lodge
Sit up on a ridge, above the clouds, looking across to the Virunga volcanoes. Behind you is the primordial, mysterious and impenetrable forest that is Bwindi. As you sit there, drinking your chilled wine, or your freshly brewed coffee, or your freshly squeezed juice or your amber coloured whisky you smile.
You smile because you know that your personal butler is lighting the fire in your cottage and setting out your freshly laundered clothes. In the kitchen a gorgeous meal is being prepared, and tomorrow after breakfast you will walk from the lodge to the Nkuringo trailhead and track the gorillas.
Guests at Clouds stay in their own cottage. Built of local volcanic stone, every cottage has a large sitting room with fireplace, vast overstuffed armchairs, and hand-woven carpets. Each individual cottage features the work of one of Uganda's most respected artists.